In this article we will discuss Top 10 Greatest Coolest Guitarists of All Time.
Below is list Top 10 Greatest Coolest Guitarists of All Time
1. Jimi Hendrix
Jimi Hendrix, real name James Allen Hendrix, was an American rock guitarist, musician, and composer who combine American jazz, blues, rock, and soul with British avant-garde rock techniques to reinvent the guitar in his own form. He was born November 27, 1942, in Seattle, Washington, and died in September, 1970, in London, England. Hendrix changed the trajectory of rock music and was one of the most prolific and influential artists of his time despite having only a four-year exciting career as a performing player.
He was discover by Linda Keith and Chas Chandler of The Animals. Purple Haze, Hey Joe, and The Wind Cries Mary are three of his UK top ten songs since then. Since playing at the Monterey Pop Festival in 1967 and the Woodstock Festival in 1969, he became well-known in the United States. On September 18, 1970, at the age of 27, he died of barbiturate-related asphyxia, or a loss of oxygen.
2. Django Reinhardt
Django Reinhardt was a Roman French jazz musician who was born in Belgium in 1910. He was regard as among the most influential and talented musicians of the twentieth century. Along with partner and violinist Stephane Grappelli, he developed the Manouche or Gypsy Jazz (hot jazz) style. In 1934, popular quintet "Hot Club de France." The group is well-know for pioneering the use of the guitar as the lead instrument.
3. Chuck Berry
Chuck Berry real name Charles Edward Anderson Berry, an American artist, guitarist, and singer is widely regard as one of the most influential Rock and Roll artists. He rose to fame thanks to the hit single "Johnny B. Goode." He characterised and distinguished rock and roll music by concentrating on composing songs with lyrics about consumerism and the raging hormones of adolescence. Which really helped him open the path for amazing stagecraft and great guitar solos, which were both fresh and hip in the music scene at the time!
4. B.B. King
Riley B. King was an American blues musician, lyricist, and guitarist who grew up on a cotton field in Berclair. He drawn to the guitar when he was a child. He is know for his elegant guitar soloing style and shimmering vibrato techniques, which have inspired many guitarists to this day. In 1987, he was inducte into the Rock & Roll Hall of Fame as the most famous and influential blues guitarist of all time. "The King of the Blues," as he's been call.
5. Stevie Ray Vaughan
Vaughan, Stevie Ray Stevie Ray Vaughan is a drummer, singer, writer, and guitarist from the United States. He is regard as among the most prominent guitarists in the 1980s blues revival. He began playing the guitar at the age of seven and rose to prominence after performing at the Montreal Festival in 1982. In 1983, he released his first studio album, "Texas Flood," which charted at number 38 and sold a million copies. Between 1989 and 1990, he hosted promotions with Joe Cocker and Jeff Beck until his career came to an end due to a horrific accident. At the age of 35, he died in a helicopter crash on August 27, 1990.
6. Tom Morello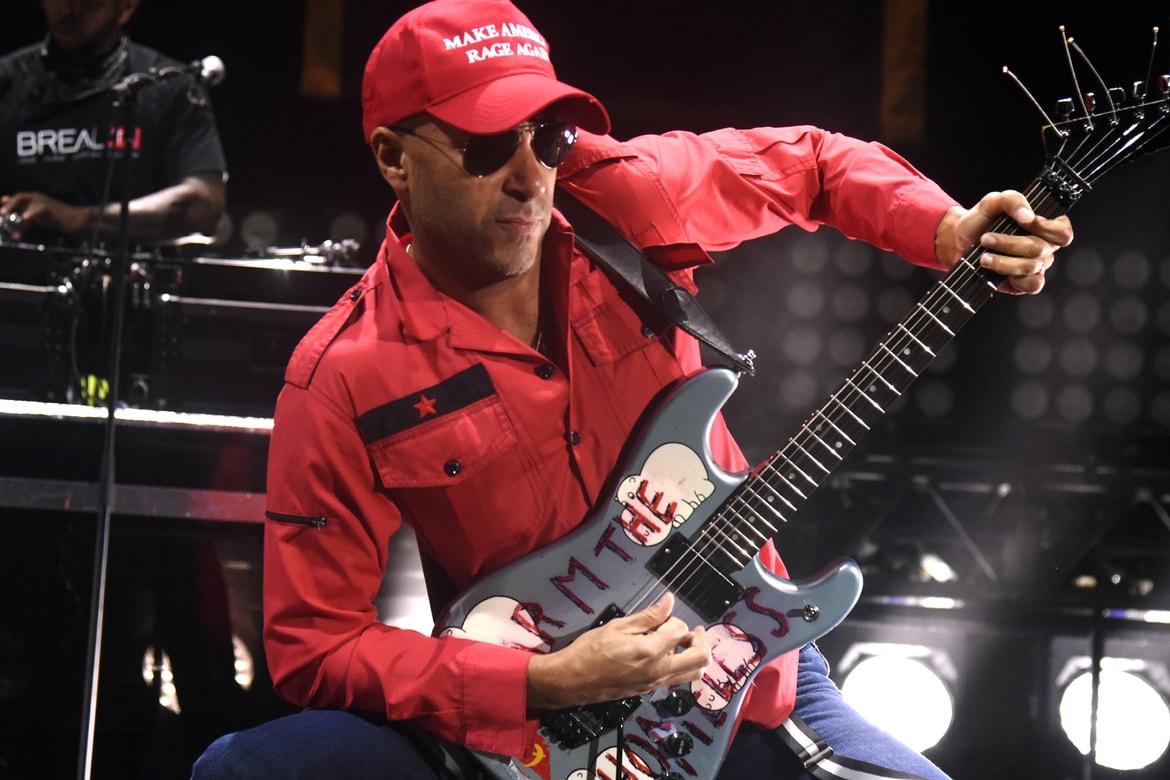 Thomas Baptiste Morello is better know for his roles in the punk bands Rage Against the Machines and Audio Slave, all of which rose to prominence in the late 1990s. Morello is a musician, songwriter, and political activist from the United States. He grew up in Libertyville, Illinois, and was raise in Harlem, New York. After that, he became interested in both music and politics, and he went to Harvard to study Social Studies.
7. Eric Clapton
Eric Patrick Clapton is a blues player, musician, and songwriter from the United Kingdom. He is one of the most recognisable names in the guitar industry, having collaborated with legendary guitarists such as Jimmy Page and Jeff Beck. He is also the first three-time Rock and Roll Hall of Fame inductee. Eric is place 3rd on Rolling Stone Magazine's list of the 100 Greatest Guitarists of All Time, having inspired many artists in the field of electric guitar playing. He's even famous for the popular pop songs "Wonderful Tonight" and "Tears in Heaven."
8. Slash
Saul Hudson, also known by his stage name Slash, is a British-American guitarist who rose to prominence as a member of the rock band Guns N' Roses in the late 1980s and early 1990s.
Following his split from the band, he recorded four solo albums. He is regard as among the most famous rock guitarists of all time and has earned critical acclaim. With his Les Paul guitar and top  as a trademark, he became a legendary figure in the scene. He was rank 65th on Rolling Stone's list of "The 100 Best Guitarists of All Time." He's also remember for the hit single "Sweet Child o' Mine" and its riff.
9. Jimmy Page
James Patrick Page is an International singer, songwriter, and record producer best know for being the guitarist for the rock group Led Zeppelin. He began his career as a working musician in England in the mid-1960s, doing session work for a variety of musicians. He is one of most in-demand studio guitarists in the United Kingdom. From 1966 to 1968, he was a member of the Yardbirds, which included Jeff Beck and Eric Clapton. On Rolling Stone magazine's list of the "100 Greatest Guitarists of All Time," he is rank number three.
10. Kurt Cobain
Kurt Donald Cobain is best know for being the lead singer of Nirvana. In the tradition of alternative music, he is remember as one of the most famous singers and successful rock musicians. He well-know at the time for their hit single "Smells Like Teen Spirit" and had serve as the generation's spokesperson, so it an effect on him.   Kurt was weary and tire of being in the spotlight with both his personal struggles and successes. He was still addicted to opioids at the time and suffers from depression, which is a persistent health condition. On April 5, he was discover dead after self-inflicting a gun bullet to the head. With his extreme distortions and strumming rhythms, Kurt also changed the tradition of guitar music.
Similar articles: Top 10 Greatest Coolest Guitarists of All Time